Good Morning Friends!
There have been a lot of awards going around lately; however, my love of cats and the feline in me just had to see a kitty one! Thus I unveil the new CCP "Blogger Purrfection Award."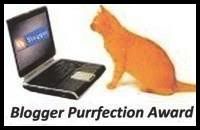 There are a couple of people I'd especially like to present this to, some because I know they are cat lovers, or in Albert's case, a cat! Then there are others simply because I love spreading HAPPY and you all deserve an award!
Anyone I may have missed who leaves a comment today,
please feel free to grab one of these awards for yourself!
Chris - CC Chronicles
Diane - Spunk on a Stick
Mason - Thoughs in Progress
Elizabeth - Mystery Writing is Murder
Albert the Cat - Albert the Cat
Cassandra - Cassandra Jade in the Realm
Alex - Alex J. Cavanaugh
Lorel - I'm Blogging Drowning Here
Elspeth - It's a Mystery
Alyssa - Random Thoughts of a Tangled Mind
Shauna - Read, Write, Review
Karen - karen...following the whispers
Elinor - Mavor Arts
Marvin - The Old Silly's Free Spirit Blog
Michele - Southern City Mysteries
Ingrid - The Conscious Cat
Thanks to all my Purrfect Blogger friends! Please pass this forward to other special people!