The virgule (/), is known by many names, including
diagonal, solidus, oblique, slant, slash, forward slash,
and
slash mark
. The virgule is used to represent a word that is not written out or to separate or set off certain adjacent elements of text.
A virgule most commonly signifies alternatives. In certain contexts it represents the word
or
.

Examples:
he/she
his/her
oral/written tests
and/or
alumni/ae
A virgule represents the word
per
or
to
when used with units of measure or when used to indicate the terms of a ratio.
Examples:
40,000 tons/year
14 gm/100 cc
9 ft./sec.
a 50/50 split
A virgule replaces the word
and
in some compound terms.
Examples:
in the May/June issue
1973/74
parent/child problems
A virgule punctuates some abbreviations and in lieu of a period.
Examples:
c/o
w/
w/o
S/Sgt
d/b/a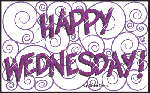 Source: Grammar Done Right!