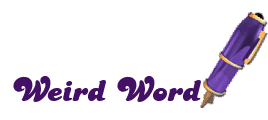 Increase your vocabulary with not-very-common and/or not-frequently-used words.
Today's
Weird Word
is:
advertent
, and its pronounciation is:
\ad-'vr-tnt\
.
Advertent

is a adjective meaning: giving attention – heedful.



Marcia listened to everything we said with an

advertent

expression on her face, then proceeded to tell us, point by point, exactly why she disagreed with us.