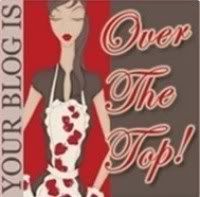 I'd like to thank Mason of
Thoughts In Progress
for presenting me with the Over the Top Award this past Saturday, and Cassandra at
Cassandra Jade In the Realm
for honoring me with it today! The award stipulates that I answer questions with one-word answers and pass the award on. Mason and Cassandra each had a different set of questions; Mason's list was shorter, so I chose to go with hers! LOL!

Your Hair?
- Blonde
Your Favorite Food?
- Salad
Your Hobby?
- Reading
Your Fear?
- Spiders
Your pets?
- KITTIES!
Something You Aren't?
- Insensitive
Where Did You Grow Up?
- California
Your Life?
- Blessed
Your Mood?
- HAPPY!
Your Favorite Color?
- PURPLE!
And...the people I'm passing this award on to are:
Chris
- CC Chronicles
Allysa
- Random Thoughts of a Tangled Mind
Lorel Clayton
- I'm Blogging Drowning Here
Southpaw (Holly)
- Scribbles and Splashes
Erin
Pagan Spirits
Thanks again to Mason and Cassandra for thinking of me! If you haven't been to any of the blogs of those I've passed the award on to, please check them out, they're
Over the Top!
Enjoy your day and go spread some HAPPY!