Good Morning Friends! Oh how exciting it is to be back in the Blogosphere!
I want to thank everyone for your well wishes and also for the birthday wishes. It was a happy day! Of course I had to share that outrageously expensive diamond and amethyst tiara with you!
So after recovery and birthday fun and a lot of other stuff thrown in during my absence, this is a super HAPPY day, to be returning to all of my blogging buddies! I sure have missed you!
Okay, now on to business! I thought I'd start with a light post and give you a Weird Word today. CCP will be posting every Wednesday, alternating the infamous tutorials with the Weird Word and the Spelling and Thoroughness Challenges.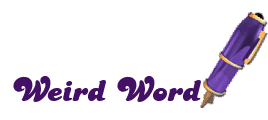 Increase your vocabulary with not-very-common and/or not-frequently-used words.
Today's
Weird Word
is:
mentimutation
, and its pronunciation is:
mentih-mu-

ta

-shun
.
Mentimutation is a noun meaning: change of mind.
His mentimutation was a result of hours of pondering the facts.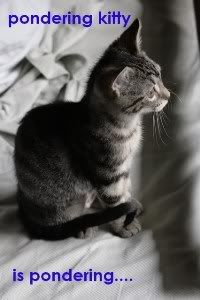 Source:
Luciferous Logolepsy