Introducing...the Blogosphere Award!
An original, new award designed and created by Crystal Clear Proofing!
There have been a lot of awards circulating lately, due in part to the amazing talent of
Chris
at CC-Chronicles, who created three outstanding awards, which were unveiled last Friday and given in recognition, appreciation and acknowledgement, and also as a sort of final curtain call to BBAW. I credit her with the inspiration I felt to create this award.
I enjoyed Book Blogger Appreciation Week. It made me think of how we're all in this "blogging world" together. There are several different genres and types of blogs, and topics for them. But the one thing we all have in common is - blogging. We share ideas, visit sites and discover new ones, leave comments, and meet some truly wonderful people. I thought it would be great to create something to commemorate that.
I would love to someday see this award on every blog!
It's purpose is simply to acknowledge what we all have in common, and spread some HAPPY! It's exciting to receive an award! You're being given a gift, you're being recognized, appreciated. You're being thought of. And it's FUN! Who doesn't like any of those things?
The rules of this award are simply to acknowledge from whom you received it, and pass it on to people you think would like to have it, for whatever reason you want, or for no special reason at all! Don't NOT pass this, or any award for that matter, on to someone just because they already have one of that award. Receving more than one of any award is an incredible compliment and honor! Being thought of always makes a person feel good!
We're all SHARING when we blog. So please spread this around!
Share it with others, the way you share with everyone every time you post on your blog!
Spread some HAPPY! Unite in what we all share and have in common...the Blogosphere!
To begin its spin through the Blogosphere, I'm presenting this award to the following individuals:
Diane -
Spunk On A Stick
Chris -
CC-Chronicles
Jo-Jo -
Jo-Jo Loves to Read
Not Nessie -
Today's Adventure
Marvin -
The Old Silly
Carolyn -
The Frugal, Smart and Tuned-in Editor
(
If your name is not listed, rest assured there will be more presented! Just giving others a chance to give). And...

You just never know when you might receive a Blogosphere!
An award post seemed an appropriate place to pass on the
Dragon's Loyalty Award.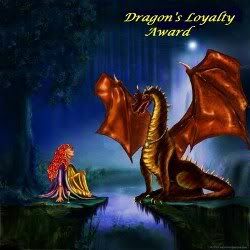 I received this award Friday from
Chris
(along with The Quest Award), and also from
Diane
yesterday, when she passed it on to me. Thank you, ladies!
Now each of you below have recevied this award already, but you consistently visit my blog, and I sincerely appreciate your support!
Chris -
CC-Chronicles
Diane -
Spunk On A Stick
Marvin -
The Old Silly
So, "doubling up" and "bouncing back" this award, I'm honoring you again!
HAPPY MONDAY AND HAPPY AWARDS EVERYONE!