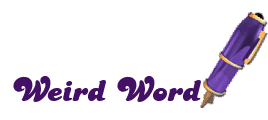 Weird Word gives you an opportunity to grow your vocabulary with not-very-common and/or not-frequently-used words.
Today's
Weird Word
is:
NEBULAPHOBIA
, and its pronounciation is: neb-u-la-fo-be-ah.
Nebulaphobia is noun, meaning: fear of fog.

His business trip to London caused him to be anxious, because he suffered from nebulaphobia.


Ask people if they suffer from nebulaphobia. You're bound to get a few confused looks!





Note: The source for most of the words featured can be found at Luciferous Logolepsy. They are so obscure, I was actually unable to find some of them at a couple of common online dictionary references, such as The Free Dictionary.com.