Writing dates and times is something that falls under the category I refer to as
grammar slang
. So many people are unsure of how to write them, it has become a gray area where you'll find dates and times written out in any number of ways. There are grammatical rules, which I've listed below, with examples of proper usage.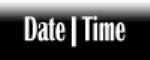 Rule: The following examples apply when using dates:

The book will be published on August 9.
The book will be published on the 9th of August.
April Fools' Day is April 1.
The 1st of April is April Fools' Day.


Rule: When expressing decades, they can be spelled out and lowercased.

Example: I have several books from the eighties and nineties.


Rule: Whether you express decades using incomplete or complete numerals, do not use an apostrophe between the year and the s. When using an incomplete numeral, use an apostrophe to replace the first two numbers.

Correct:
During the '80s, I purchased several books.
During the 1980s, I purchased several books.

Incorrect:
During the '80's, I purchased several books.
During the 1980's, I purchased several books.


Rule: Spell out the time of day in text even with half and quarter hours. With o'clock, the number is always spelled out.

Example: He left at four thirty to meet with his agent.
Example: His meeting with his agent was at five o'clock in the afternoon.


Rule: Use numerals with the time of day when exact times are being emphasized.

Example: She received the message at 9:22 a.m.
Example: The meeting is at 12:30 p.m. sharp.


Rule: Use noon and midnight rather than 12:00 a.m. or 12:00 p.m.

Note: In printed matter, many times you will see A.M. and P.M.

In much the same way that E-mail and e-mail has evolved into email, AM and PM are also widely used, though not officially grammatically correct.




Sources: Grammarbook, Gregg Reference Manual