TODAY IS NATIONAL GRAMMAR DAY!
Language is something to be celebrated, and March 4 is the perfect day to do it. It's not only a date, it's an imperative: March forth on March 4 to speak well, write well, and help others do the same! - Grammar Girl

Most of us know clumsy sentences when we hear or read them, but we don't always know exactly why they are clumsy or possess the skills to fix them. Here's a sentence that needs a little work:
The network that this computer is able to connect to contains information that is privileged and confidential.

The clumsiness is caused by several common writing errors:
Unnecessary dependent clauses
Get rid of that is/which is, that are/which are clauses whenever possible.
Extraneous verb phrases
Delete verb phrases that don't add meaning: is able to.

Subjects too far away from their verbs
Place subjects closer to their verbs: computer connects, network contains.
Redundancy
Weed out repetitious words: Confidential and privileged mean the same thing in this context.
Finally, tweak the wording so that the sentence flows:
This computer connects to a network containing confidential information.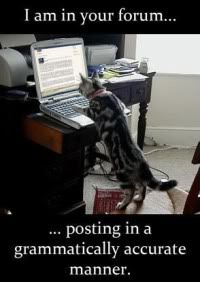 Check out The Grammar Song! Find it here:
The Society for the Promotion of Good Grammar
.
Sources: Grammarbook.com, Grammar Girl, The Society for the Promotion of Good Grammar