Thoroughly Thursday

is a weekly post consisting of paragraphs that contain spelling and/or grammatical errors, and your job is to find them. Please do not list the errors you find within the post.
The same post is repeated at the end of Fun Friday's Spelling Challenge, with the errors corrected and highlighted in
red
.
Note:

Names and places will NOT be misspelled, nor will there by any changes to punctuation. In addition, if there is a word that may have more than one accepted form or there is more than one accepted spelling, those also will not be changed. That would not be fair...the purpose of the Challenge is thoroughness, not technicalities.
This week your Challenge paragraphs continue with the history of blogs and blogging as they evolve and begin to immerge as the blogs we're familiar with today. This week you're looking for
11
errors.
Good Luck!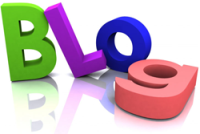 *******************************************************************************
Original weblogs had to be manually updated threw multiple sections of a common website. The creation of the majority of tools that allow authoring and maintainance of articals posted in a reverse chronilogical order, initiated a much easier publishing process, for a less technical, expansive population. The result was the forming of a direct class for what is known as online publishing, which has given us the blogs we see today. Obtaining blog software like WordPress, Blogger and LiveJournal are availible through a number of web hosting services. This provides blinding speed and instant reaction to any concern or topic on the "global podium."

Since 2002 blogs have gained notoriaty and credability for there part in braking, shaping and spinning news stories. It has become a way of throwing important infomation into the public limelight. It now, for all intents and purposes, drives mainstream media by forcing them to follow there lead. Blogging has become a priceless tool for quality communication and a way for intelligent people to provide intelligent and valuable insight, opinions and information.

In 1999 new software services like Blogger and LiveJournal were launched, making blogs much simpler to create.

Today, more than one blog is created every second and there are currently over 100,000 million blogs worldwide.


*******************************************************************************
Be sure to check back tomorrow to see how

thorough

you are!